Business Safety Supplies Grant
Bruce CFDC is partnering with Bruce County Council and Saugeen Economic Development Corporation (SEDC) to advance additional support to local businesses within Bruce County as it relates to the impact of the COVID-19 pandemic. As part of the "Support the Bruce: Business Sustainability Fund", the "Business Safety Supplies Grant" provides funding to help Bruce County businesses meet Public Health guidelines to keep employees and customers safe from the spread of COVID-19. County Council understands the need and unplanned expense for items that support these guidelines. As a result, Bruce County is offering a $1,500 grant per business to cover the costs of Personal Protective Equipment (PPE) such as masks, gloves, gowns, plexiglass etc., hard surface disinfectants, hand sanitizers, methods/ ways to ensure physical distancing such as floor stickers, etc.
Eligible businesses must be located in the following area(s) in order to apply through the Bruce CFDC:
County of Bruce:

Northern Bruce Peninsula
South Bruce Peninsula
Saugeen Shores
Arran-Elderslie (Tara & Paisley)
Kincardine
Huron Kinloss
South Bruce
Brockton (excluding Walkerton)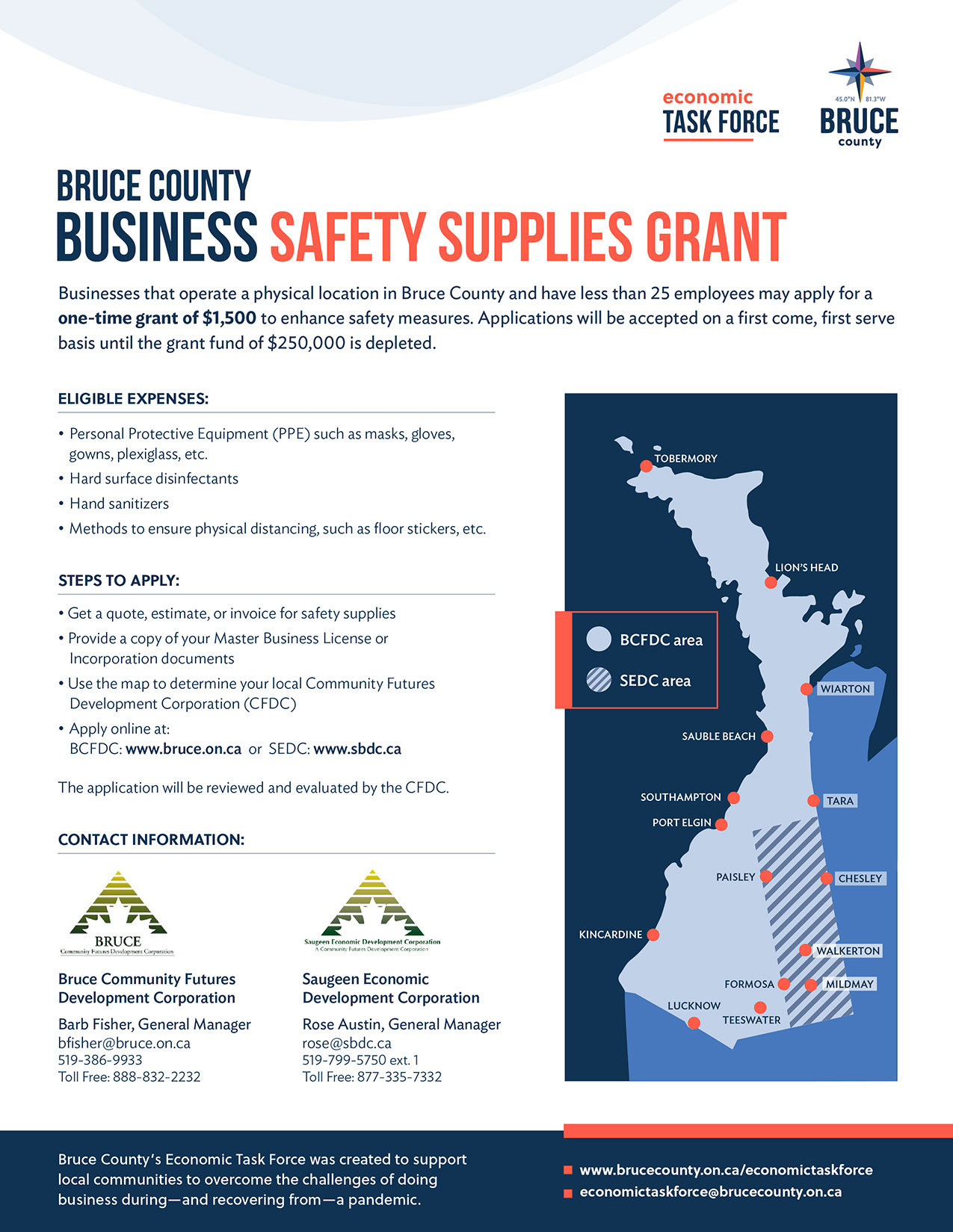 For further information contact Barb Fisher at 519-386-9933 or bfisher@bruce.on.ca
IMPORTANT!

You must complete, sign, and scan the above application and email all documents to bfisher@bruce.on.ca. Reference your business name in the subject line of the email.